Christianne Kearns - PCN Planning Manager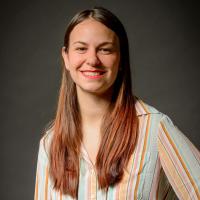 Christianne was born and raised in Blind River, a beautiful small Anishinaabe, English and French-Canadian town in Northern Ontario on the shores of Lake Huron, which gave her a deep appreciation for community development, the environment and rural issues. Christianne holds a Master of Public Policy and Public Administration from Concordia University in Montreal, and following her studies, spent the first five years of her professional career focusing primarily on Indigenous reconciliation, working closely with First Nations as a program evaluator for the Federal Ministry of Indigenous Services, as the Interior Regional Advisor for the First Nations Health Authority and the Okanagan Nation's Health Lead.
Now living in the Interior of British Columbia, Christianne remains passionate about systems change that doesn't leave small communities behind, but rather is adaptable and considerate of their unique context, strengths and challenges. In her past life, Christianne was a touring musician, and still loves to play, listen and write music in her spare time.