Locum Opportunities
---
---
Looking for a Locum? Members can submit their locum opportunity by completing the Locum Opportunity Form.
---
The Richmond Division of Family Practice offers a unique one-stop-shop for both locums and GP members who are looking for employment in the area. Services we provide include:
Providing a central point of contact for locums to find work and GP members to find practice coverage.
Facilitating the matching of schedules and practice preferences to that of our 200 GP members who practice in Richmond.
Helping with resources such as contract templates, an orientation checklist, and list of specialty and community resources for physicians new to Richmond.
Managing an up-to-date list of locum opportunities on the Richmond Division and Society of General Practitioners of BC website to assist member GPs in locating locum support.
Interested in locuming in Richmond? Please contact Anetta at astankowski@rdfp.ca. Locums can view upcoming locum opportunities below.  
---
Current Locum Opportunities:
Last Updated - August 2021
LOCUM OPPORTUNITIES LEGEND
| | |
| --- | --- |
| | EMR |
| | Walk-in Clinic |
| | Group Practice |
| | Neighbourhood Network |
PCN MAP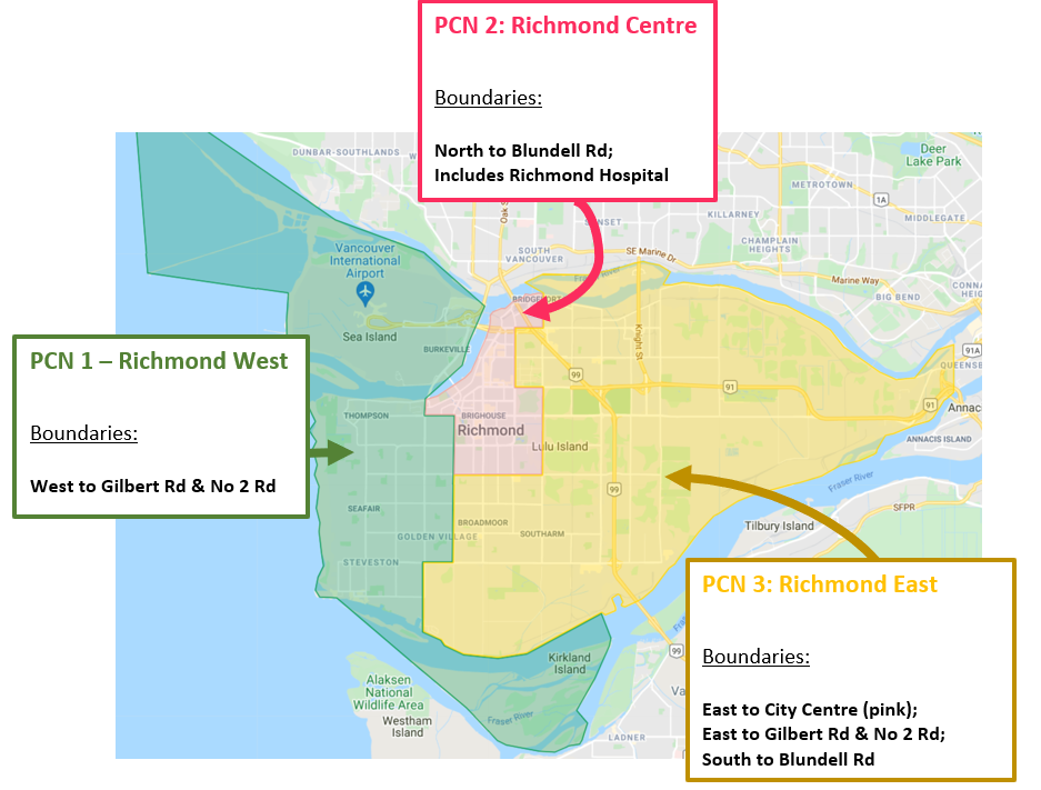 ---
Locum Opportunities
PCN 1 - Richmond West 
Date Ranges

Location

Tags

HMBC Posting(s)

August 2, 2021 to August 21, 2021

Blundell

Blundell Rd & No. 2 Rd

  

October 29, 2021 to November 26, 2021

Blundell

Blundell Rd & No. 2 Rd

  

VCHA-4110
August 2, 2021 to August 27, 2021

Steveston

Chatham St & First Ave

  

VCHA-4029

July 30, 2021 to August 11, 2021 and Ongoing

Terra Nova

Westminster Hwy & No. 1 Rd

  

VCHA-4109
PCN 2 - Richmond Centre
Date Ranges

Location

Tags

HMBC Posting(s)

August 2, 2021 with flexible end date

Ackroyd

Ackroyd Rd & No. 3 Rd

  

VCHA-4084
August 2, 2021 to August 30, 2021

Minoru

Westminster Hwy & No. 3 Rd

  

VCHA-4085
August 2, 2021 to October 26, 2021

Westminster

Westminster Hwy & Gilbert Rd

 
PCN 3 - Richmond East
Date Ranges

Location

Tags

HMBC Posting(s)

August 2, 2021 to December 31, 2021

Coppersmith

Steveston Hwy & Coppersmith Pl

  

VCHA-4096
---
Locum to Permanent Placement Opportunities
PCN 1 - Richmond West 
Date Ranges

Location

Tags

HMBC Posting(s)

August 2, 2021 to January 4, 2022

Blundell

Blundell Rd & No. 2 Rd

  

August 2, 2021 with flexible end date

Steveston

Chatham St & First Ave

 

August 2, 2021 to November 8, 2021

Terra Nova

Westminster Hwy & No. 1 Rd

 
PCN 2 - Richmond Centre
Date Ranges

Location

Tags

HMBC Posting(s)

August  2, 2021 with flexible end date

Minoru

Westminster Hwy & No. 3 Rd

  

VCHA-3989
August 2, 2021 to July 4, 2022

Richmond Oval

River Rd & Oval Way

 
PCN 3 - Richmond East
Date Ranges

Location

Tags

HMBC Posting(s)

August 2, 2021 to February 1, 2022

Hamilton

Gilley Rd & Wesminster Hwy

 
The Richmond Division of Family Practice makes no representations or guarantees about the positions and employers listed on our website. We are not responsible for safety, wages, working conditions, or any other aspect of employment.

For additional listings, please visit:
Resources: