Locum Opportunity - Dr Dohm


This is an opportunity to locum in a comfortable family practice in beautiful Powell River, BC. The practice has a balanced panel of patients from infants to seniors. Work full-time or part-time and choose your own work schedule. This is a perfect opportunity for colleagues who prefer paper charts!
Download a PDF of the locum opportunity with Dr. Dohm

Please contact the clinic directly for current dates available.

Compensation - Fee for Service
Split: 70/30 office and inpatient
Benefits/Incentives – Eligible for Rural Retention Premiums (10.5% on top of MSP billings in Powell River), Complex care, CDM and Attachment billings
On-call obligations – weekday hospital & LTC coverage
Schedule – flexible

Qualified for licensure under the BC College of Physicians and Surgeons.
Has a commitment to providing full-service, continuity of care family medicine.
ER shifts and OR Assists are available if desired

Dr. Dohm's practice is centrally located on Powell River's main street one block from the ocean. This solo practice is located in a shared space with three other physicians who work independently. The office has two dedicated examination rooms an office, reception area, and a lunch room. The four family physicians in the building run a walk-in clinic, each taking one afternoon a week. The practice has very knowledgeable and welcoming support staff.
Powell River has a diverse medical community comprised of over 40 family practitioners and specialists. The Powell River General Hospital is a 33-bed facility with services including medicine, surgery, endoscopy, ICU, obstetrics, oncology, emergency, and diagnostic services.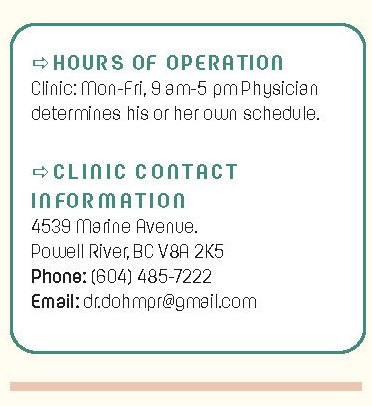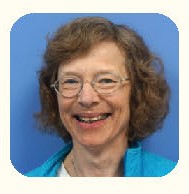 Brigitte was born in Vienna and completed her residency in Family Medicine and Pediatrics in Austria.  She married a Canadian and moved to Canada in 1997.  She completed her rural family medicine residency in Alberta and has been practicing in Powell River since.  Brigitte loves skiing and hiking in Powell River's natural surroundings.