Physician Health & Wellness
PHYSICIAN HEALTH PROGRAM
The Physician Health Program is available to physicians 24/7.  Please click here for more information on how the program can support you!
SOUTH ISLAND PHYSICIANS WALKING GROUP
It's always great to get outside – so here's a chance to connect with fellow physicians, safely, and get some exercise as well!  Join the South Island Physicians Walking Group, meeting at various locations around our region on the third Saturday of every month.  
Please bring or wear something YELLOW to identify yourself as a South Island physician…and look for others wearing yellow too! Families and dogs welcome!  Please model good COVID-friendly behaviour and follow all public health guidelines and recommendations. 
Upcoming Dates:
Saturday, September 18th: Lone Tree Hill (meet at the trailhead) 1:00pm for departure at 1:10pm
Sunday, October 17th: Thetis Lake (meet at the Main Beach of Lower Thetis) at 1:00pm for departure at 1:10pm
Saturday, November 20th: East Sooke Park (meet at Aylard Farm parking lot information kiosk) at 10:00am for departure at 10:10am
Sunday, December 19th: McKenzie Bight to Cascade Trail (meet at the McKenzie Bight sign) at 10:00am for departure at 10:10am
VIRTUAL MINDFUL MONDAYS FOR PHYSICIANS
Take an hour for yourself to slow down, reconnect and restore!  Join physician colleagues and a skillful facilitator, virtually, for an hour of mindfulness practice.  No meditation experience needed.
Click here for more details! 
To receive the Zoom link for a session, please email info@southislandmsa.ca no later than 4pm on the date of a session. 
PHP DROP-IN AND SHARE: COVID-19 PHYSICIAN PEER SUPPORT SESSIONS
Date: Every 2nd and 4th Wednesday of the month
Time: 12 - 1 pm (PST)
Location: Online/webinar
During this challenging time, physicians are working hard to care for patients, their families and communities.  The burden of this responsibility is taking its toll, with increased stress, anxiety, and risk of burnout.  Talking to other physicians can help.  Join your colleagues, Psychiatrist Dr Jennifer Russel, and PHP's Roxanne Joyce, to talk about the issues and challenges you're facing.  Sessions will focus on peer support, not psychiatric care.
Click here for more information, or register by emailing peersupport@physicianhealth.com for the Zoom link. 
For more offerings, please visit the SIDFP events webpage.
---
Goals:
Support physician health and work-life balance at the local level, for physicians and their families.  Specifically:
Encourage health living in their work and relationships;
Increase awareness of existing resources and how to access them;
Supplement said resources as/where/when needed; and 
Collaborate/create 'community' with all physicians.
Key Activities
Physicians finding physicians
Work-life balance
Balint groups
Involve families in meaningful way
Support mental health
Social events with guest speakers
Collaboration with other local wellness groups
---
Photos from our recent events: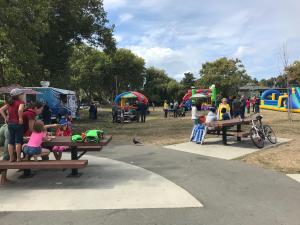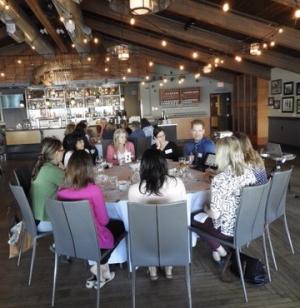 Summer BBQ at Gyro Park with the MSA and VDFP       Dermatology Dine & Learn at the Beach House Restaurant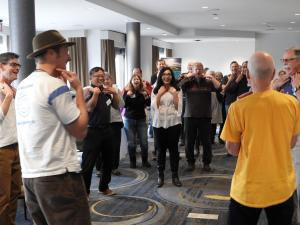 Laughing Yoga at the Health & Wellness Fair