REAL-TIME VIRTUAL SUPPORT (RTVS) PATHWAYS

Real-Time Virtual Support (RTVS) Pathways provide access for any family physician, nurse, nurse practitioner, or resident to engage different specialties, 24 hours a day, for acute or non-acute clinical cases.
The RTVS toolkit was designed for healthcare providers in rural, remote, and First Nations communities. It describes the pathways that can be accessed by these providers, how they can be accessed, and which pathway is most relevant at any given time.
To date we have RUDi (Emergency Medicine), CHARLiE (Pediatrics including Neonatology and Mental health and addictions), MaBAL (Maternity and newborn care) all providing 24/7 dedicated support. Rheumatology, Thrombosis, Clinical Hematology, Dermatology and myoLive (pain management) are additional real time supports available 9-5, M-F via the Zoom contacts mechanism. All of these supports are peer to peer, but can include the patient facilitated by the health care provider as needed.  ** NEW**  Providers in rural, remote and Indigenous communities can now access Neurology through Real-Time Virtual Support.
For more detailed information on Real-Time Virtual support Pathways, click here>.
The Pacific Northwest Division of Family Practice has deployed 10 iPads with dedicated ER ZOOM accounts and other medical applications that are of benefit and use to physician members working in Emergency Departments in our rural communities.  These tablets, on mobile goose-neck stands, are currently located in EDs in Dease Lake, Gitlaxt'aamiks, Houston, Kitimat, Masset, Prince Rupert, Queen Charlotte, Smithers, Stewart, and Terrace.  If you require any technical assistance or support with one of these devices, please contact the Pacific Northwest Division of Family Practice. 
The RTVS contacts are all accessible by Zoom and/or telephone. If you need a Zoom account, please complete the online request form.
If you signed up for a Zoom license through RCCbc, all RTVS pathways will automatically be added to your Zoom contacts. If your Zoom account was provided by your health authority, you will need to add the RTVS contacts to your account.
Once your contacts are added, you can request a consult with the pathways. If you need help with Zoom, visit the RCCbc's Zoom Basics section.
---
OTHER SUPPORT PATHWAYS
Post-COVID Recovery Clinic Referral Pathway
A new Real-Time Virtual Support (RTVS) pathway is now available for healthcare providers in rural, remote, and First Nations communities in BC.
The Post-COVID Recovery Clinic Referral pathway enables rural healthcare providers to quickly and easily access the St. Paul's Hospital referral form for patients who are recovering from COVID-19. Once the referral form is completed, patients will be contacted and scheduled for a virtual appointment with the Post-COVID Recovery Clinic at St. Paul's Hospital in Vancouver. This clinic, developed by Providence Health Care, provides access to post-COVID care, services, and education through a novel mix of on-site and telehealth-enabled clinics that allow for multidisciplinary engagement with patients, general practitioners, allied health professionals, and subspecialists.
The Post-COVID Recovery Clinic Referral pathway can be contacted Monday to Friday from 8am to 4pm. You can find this Post COVID-19 Recovery Clinic in the RTVS "Quick Reply" pathways in your Zoom contacts. The pathway may also be reached by phone at 604-806-8037.
Questions regarding this new pathway may be directed to the RTVS Technical Lead.
---
24/7 Addiction Medicine Clinician Support Line
A reminder that the  24/7 Addiction Medicine Clinician Support Line is available 24 hours a day, seven days a week, 365 days a year, by calling 778 945-7619.
The support line, launched in June 2020 by the BC Centre on Substance Use (BCCSU), offers:
Consultation for doctors and other health care providers from addiction medicine experts trained in delivering life-saving, evidence-based addiction care.
Guidance for supporting patients with substance use disorders.
---
OBTAIN CME CREDITS FOR RTVS CALLS

Physicians using the RTVS pathways can claim CME credits for time spent collaborating with a Virtual Provider.
Available 24/7 via Zoom and phone
Target audience: family physicians, specialists, nurses, nurse practitioners, midwives, residents, and locums working in rural, remote, & Indigenous communities
Overview: Culturally safe and compassionate teams with an understanding of the rural and cultural contexts are available to support rural healthcare providers for any issue, including consults, case review, navigating the healthcare system, patient simulation scenarios, collaboration, and more. Current pathways include provider-facing pathways (RUDi: Emergency, ROSe: Critical Care, CHARLiE: Pediatrics, MaBAL: Maternity and Newborns, and UBC Dermatology Rural and Remote Service).
Up to 30.0 Mainpro+/MOC Section 1 credits
Course Webpage  | RTVS Toolkit
---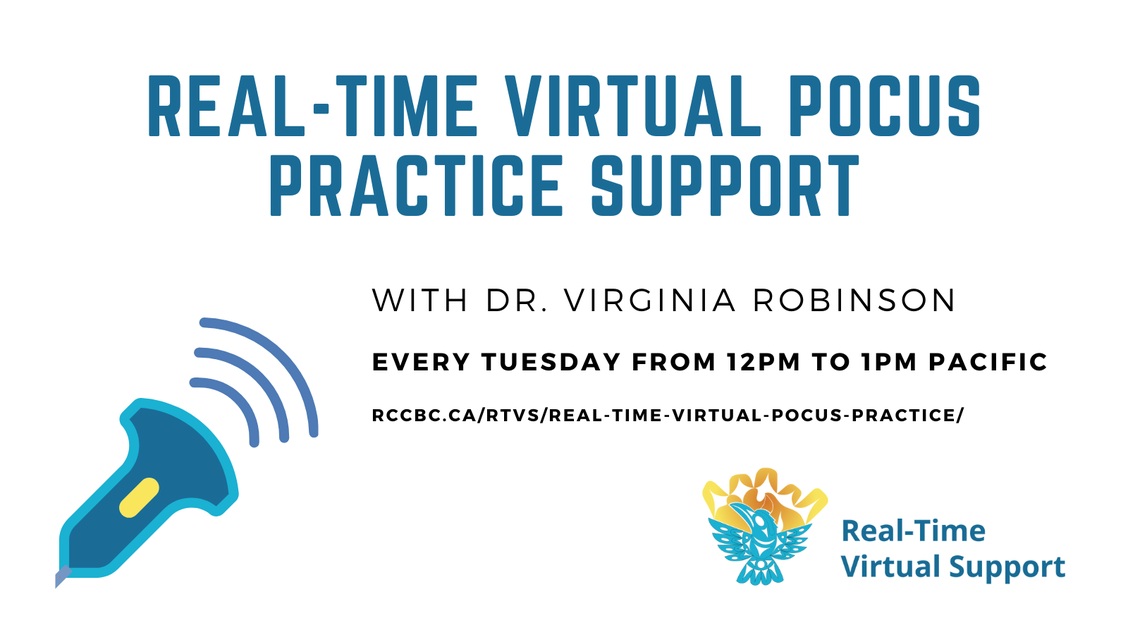 Real-Time Virtual Support is being used to help physicians and other providers train in Point of Care Ultrasound (PoCUS).
The goal is to provide an opportunity for rural physicians, midwives, nurse practitioners, physician residents, students and other health care providers who have access to ultrasound to call in and get help with their ultrasound skills, usually around a specific exam.
The opportunity is led by Dr. Virginia Robinson and takes places every Tuesday from noon to 1 p.m. Pacific and no registration is required.
Click here to join the Tuesday session on Zoom (only active 12:00-13:00 Tuesdays) Zoom Meeting ID: 7787736693 / rtvs.pocus
Visit rccbc.ca/rtvs/real-time-virtual-pocus-practice/ for details or to keep up-to-date with session information.
---
Thank you for those who attended the Team Up! Team-Based Primary & Community Care in Action on Real-Time Virtual Support (RTVS) on December 16, 2022.
This webinar and podcast series hosted by BCPSQC, aims to connect individuals and teams, identify tools to apply to current work underway, and share experiences in team-based care across the province. The latest webinar covered Real-Time Virtual Support service for rural, remote and First Nations communities in BC, and the expansion of supports that RTVS provides. Watch now and learn how this could be a tool for your team!
The webinar recording is available here: https://bcpsqc.ca/resource/tools-for-teams-real-time-virtual-supports-for-bc/
---
The RCCbc are also looking for feedback on the Real-Time Virtual Support (RTVS) system. Your feedback will help make improvements.
RTVS was designed to increase access to virtual collegial support to healthcare practitioners serving rural, remote, and Indigenous communities and to increase patient access to timely, appropriate virtual care, especially for rural, remote, and Indigenous citizens.
Your feedback from this survey will help ensure we continue to meet those strategic goals.