FAMILY PRACTICE SUSTAINABILITY RESOURCES AND STRATEGIES

The purpose of this page is to act as a repository for resources and strategies to help support and sustain your medical practice.  If you are aware of information that would be useful to this page, please contact the Pacific Northwest Division of Family Practice. 

*NEW - $1,000 GPSC PAYMENT AVAILABLE TO FAMILY DOCTORS WHO COMPLETE PANEL MANAGEMENT AND ENROLL IN THE HEALTH DATA COALITION DISCOVER PLATFORM
Family doctors who have completed panel management are eligible for a new $1,000 GPSC payment if they enroll in the HDC Discover tool and complete the orientation for the software. The payment supports family doctors to utilize the tool to make data-informed quality improvements in their practices.
HDC Discover is a physician-led data platform that supports quality improvement in primary care. As more physicians use the tool, communities and family doctors will increasingly be able to conduct primary care network planning and make data-informed decisions on a local or regional level.
The GPSC will email eligible physicians information about applying for the payment. Application and enrollment deadline for HDC Discover is March 30, 2022.
Read the full details of the payment, and email questions to the Doctors of BC.
GPSC GRANT SUPPORTS DOCTORS TO FORM GROUP FAMILY PRACTICES
The GPSC has introduced a new grant to help cover expenses incurred when family doctors join or form a new or expanded group practice. The Group Family Practice Development Grant, which provides up to $30,000 per eligible physician, addresses feedback from family doctors that significant expenditures of closing and/or merging offices are holding them back from forming or consolidating group practices.
HOW DO I APPLY?
Applications for the grant are made after the new or expanded group family practice has been formed. The group family practice will submit an online application form on behalf of the eligible family physicians. On the application form, the family practice will list expenses incurred by each doctor – individual physicians should not submit separate applications.
WHERE CAN I LEARN MORE?
Doctors who are considering joining or forming a consolidated group family practice and claiming this grant are encouraged to contact the GPSC billing team to clarify eligibility. Please email the Doctors of BC for inquiries. The FAQ provides more details about the grant.
ONE-TIME PAYMENT SUPPORTS FAMILY DOCTORS TO DELIVER NEW 'CARE BUNDLE' FOR HIGH RISK PATIENTS
A new GPSC one-time payment with a minimum of $1000 will support eligible family doctors who manage high-risk patients during the current COVID-19 and influenza season. The GPSC is providing a total of $6 million for the payments, using unallocated funding from 2020, to recognize and support family physicians who are taking on the additional work of identifying and treating patients with care needs noted in the Ministry of Health's BC Care Bundle for Supporting High Risk Patients Through COVID-19 Pandemic and Influenza Season.
Most eligible family doctors will each receive a one-time payment between $1000 and $1500. The exact amount is based on the number and complexity of Majority Source of Care (MSOC) patients associated with the physician in the Medical Services Plan (MSP) database. In early February 2021, the GPSC will email information to eligible family doctors about registering for the payment.
To assist physicians in rapidly applying the Care Bundle guidance, Pathways now includes an easy-to-use algorithm with embedded links. To find the point of care algorithm, login to www.pathwaysbc.ca and select the specialty of COVID-19 from the blue "Select specialty" tab, or search the word bundle in the search bar. If you do not have Pathways access, please email your Pacific Northwest Pathways Administrator.
The BC Care Bundle offers guidance for doctors and other care providers who provide comprehensive longitudinal care to high-risk patients during the COVID-19 pandemic and influenza season. The recommendations were developed with input from BC family practice leads and specialists. They include encouraging immunization uptake, creating care plans for intercurrent illness with underlying chronic disease, and optimizing chronic disease management through a review of medications and discussions with patients on their emotional well-being, diet, and exercise. The guidance also has a list of resources for more information.
The GPSC will hold a webinar for family physicians in February to review the BC Care Bundle and discuss integrating it into practice using the Pathways online resource. Once the webinar date is confirmed, it will be shared in Divisions Dispatch and posted on the GPSC website.
THE COMMUNITY LONGITUDINAL FAMILY PHYSICIAN (CLFP) PAYMENT 
The Community Longitudinal Family Physician (CLFP) Payment recognizes community-based family physicians who work under fee-for-service and who care for a panel of patients for providing long-term, relationship-based care.
Longitudinal care includes providing patients with ongoing medical care, maintaining patients' medical records, and coordinating referrals to other health care providers when needed. The CLFP Payment recognizes the additional, non-clinical responsibilities required to provide ongoing, coordinated care for which fee-for-service physicians are not compensated.
An eligible physician will receive a total annual payment amount of no less than $3,000 and up to $12,000, with exact payment amount per individual physician based on the number and complexity of Majority Source of Care (MSOC) patients associated with the physician in the MSP database.
The CLFP Payment may be subject to business arrangements pertaining to how MSP payments paid to particular payee numbers are split between physicians and clinic owners. In these cases, physicians and clinic owners are encouraged to come to a mutual agreement on how existing business arrangements apply to the CLFP Payment.
2021 Community Longitudinal Family Physician Payment
In September 2021, eligible family doctors will receive instructions by email on how to claim the 2021 Community Longitudinal Family Physician (CLFP) Payment. Eligible doctors will receive the 2021 CLFP Payment in a single installment no later than January 2022. The payment provides each eligible doctor with $3,000 to $12,000 based on the number and complexity of majority source of care patients associated with the doctor in the MSP database.
The CLFP Payment recognizes community-based family physicians who work under the fee-for-service model and provide long-term, relationship-based care to their patients.
For more information, refer to the CLFP Payment FAQs or contact gpsc.billing@doctorsofbc.ca.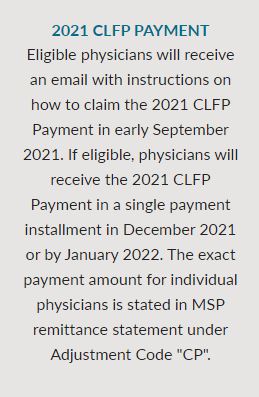 PRACTICE SUPPORT PROGRAM SUPPORTS FOR EXPANDING IN-PERSON CARE - As family practices expand in-person care as the COVID-19 restrictions ease, the GPSC's Practice Support Program (PSP) can help the clinic develop a work safe restart plan, and also support physicians in transitioning their practices into a hybrid delivery model combining virtual and in-person care. PSP offers flexible and tailored coaching and mentoring support. 
For questions or more information about eligibility requirements for PSP compensation and certification, please email the Practice Support Program at the Doctors of BC or Northern Health.
---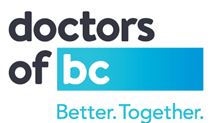 HEALTH AUTHORITIES ACCEPTING EXPRESSIONS OF INTEREST FOR COVID SERVICE CONTRACTS -  Health authorities are accepting Expressions of Interest (EOI) for the Simplified COVID Service Contract. Doctors who are interested in potentially transitioning to the contract should contact their health authority's medical affairs department to formally express their interest and discuss next steps.  Physicians will be eligible only if they have experienced a decrease in their FFS (fee for service) billings of at least 20 per cent compared to the corresponding period in the previous year. Visit the Doctors of BC website for information on eligibility criteria and the EOI process.
PROVINCIAL PPE PORTAL - In late November physicians were mailed letters from the Ministry of Health which outlined details of how to register for the PPE portal and were also given their unique customer number.

This is the link for the Ministry of Health PPE Portal

If you have not registered yet for the portal, you can read this Registration Information for PPE for direction on how community doctors should register to receive PPE supplies from the Ministry at no cost.

If you are having challenges ordering PPE you can Ask Doctors of BC for additional help.The Docotors of BC support page includes information on who to contact if you are facing challenges or have questions about ordering from the provincial government's Health PPE Portal.
CONTRACT OPTIONS FOR BC'S PHYSICIANS - The BC Ministry of Health has introduced a number of new contract options for BC's physicians. They provide more choice for established and new-to-practice family physicians who want to move away from Fee-for-Service (FFS) and practice in a different way, and support for physicians whose Fee-for-Service practices continue to be significantly destabilized due to conditions resulting from COVID-19. Group contracts will also continue to be offered to anesthesiologists and ER physicians.
The Ministry consulted with Doctors of BC during the development of the contracts. If you have questions please contact Doctors of BC staff.
HEALTH TECHNOLOGY RESOURCES  | Doctors of BC - The Doctors Technology Office has developed a number of resources and best practice guides to inform and educate physicians across the province in better navigating the health technology landscape. The links below are grouped by topic. For further information or to request additional resources, please email the Doctors Technology Office.
SMALL BUSINESS AND INDIVIDUAL INCOME SUPPORTS FOR PHYSICIANS DURING COVID-19  - a summary of the supports that both the federal and provincial government have put in.
BILLING CHANGES – COVID-19 - General Preamble changes; Section of General Practice Preamble changes New COVID-19 Office Visit Codes. Two new, temporary office visit fees have been introduced for physicians treating patients with suspected or active COVID-19 symptoms, one with test and one without test.
THE DOCTOR IS IN: SUPPORTING PHYSICIANS IN RE-OPENING OFFICES - "The Doctor is In: Recommendations for expanding in-person care in community-based physician practices" provides a one-stop source of information to support physicians in the gradual re-opening of offices and clinics.
BUSINESS COST PREMIUM EXPANDS TO INCLUDE TELEHEALTH - This article has been updated with answers to some of the questions we have been asked by physicians. Click here to read the Physician Q&As. Effective May 1, 2020, the Business Cost Premium (BCP) will be temporarily expanded to apply to telehealth fee items, including phone and video communication with patients. This change ensures the BCP is paid during the COVID-19 pandemic, given these services would have normally been provided in person in physician's offices.
COVID-19 SAFETY PLAN (Generic) - A COVID Safety Plan requires you to assess the risks, implement protocols, develop policies, develop communications, monitor your workplace, and assess and address risk.  This plan was drawn up using the WorkSafeBC template & the Doctor Is In Safely Plan appendix.  
---

THE COVID-19 PIVOT: AN OPPORTUNITY TO RE-EVALUATE HIGH VALUE CARE & CLINICAL PREVENTIVE SERVICES - The COVID-19 pandemic has seen family physicians shift to more virtual care and less in-office services.
---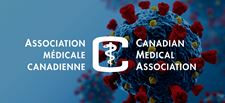 RE-OPENING YOUR PRACTICE DURING COVID-19 - This material is for general information only; please follow the direction provided by your regulatory college, the Chief Medical Officer of Health and your local public health unit. This guidance was developed for the CMA in conjunction with the Centre for Effective Practice (CEP), one of the largest independent knowledge translation organizations for primary care in Canada.
---

COVID-19 RESOURCES FOR HEALTH PROFESSIONALS - COVID-19 resources for health professionals. To support our Fellows who are providing high quality patient care under these challenging circumstances, the Royal College has compiled evidence-based information and resources about COVID-19.