Stewart
Situated amidst towering mountain peaks and scenic waterfalls, the town of Stewart is the northernmost point on Canada's Pacific Northwest coast, and is probably one of the most spectacular spots in BC. 
Stewart, population of around 400, is located across from Alaska's Misty Fjords National Park and at the end of the Portland Canal. West of Stewart is Hyder, Alaska (only 3 kms from the town). Northwest and accessible only by way of Hyder, is Premier, British Columbia, notable for being in Canada, but only accessible through a portion of the United States that is only accessible from Canada. East of the town is Meziadin Junction (61 kilometres), Kitwanga (218 kms), and north of Stewart is Dease Lake (392 kms).  It is a unique border town attracting tourists from every corner of the world.
The town's colourful history is now chronicled in the Stewart Historical Museum, as well as a number of restored heritage buildings that are marked by historic signage. The community also hosts special events and attractions throughout the year. 
Stewart offers a wide range of bountiful recreational activities.  You will find Par 3 Golf with driving range & putting course set against the wonderous backdrop of Mt. Rainey.  Charter boats will take you fishing or on a wilderness tour filled with bears, porpoise, mountain goats and eagles.  Meander on the Estuary Boardwalk with a spectacular view of the Portland Canal, or tour the sights at both the Bear and Salmon Glaciers.  
Stewart is home to the Stewart Health Centre which has a Primary Care Physicians Clinic, an Emergency Department, radiology, a laboratory, video conferencing appointments, Mental Health, and Dietician services. 
---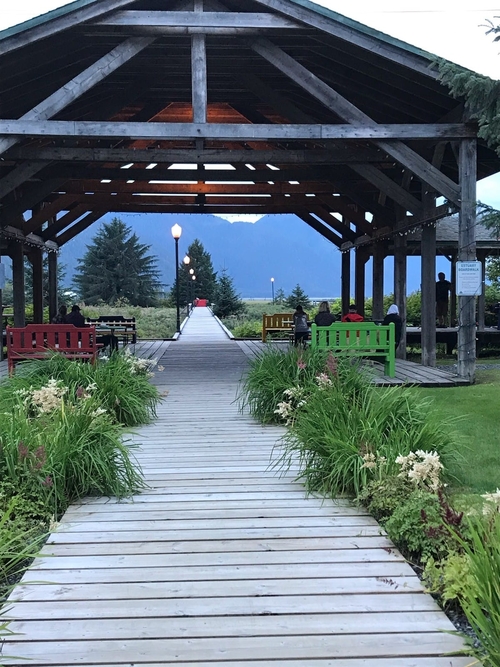 Estuary Boardwalk - Photo by J. Ljungh