Director-at-Large: Dr. Michelle Workun-Hill, MD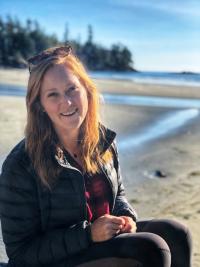 Hi! My name is Michelle; I am a current second-year resident here in Nanaimo. I hail from Chelsea, QC, a small town north of Ottawa. I studied kinesiology in Montreal, briefly dabbled in law school and then quickly saw the light and travelled to Calgary for medical school. I have been living in Nanaimo for about a year and half with my partner Pat, and I don't think we knew how smitten we would become with the area. We recently bought a house here and are putting down roots, and are always looking for ways to get connected and stay connected to the community.
I have been delighted by the trail systems here in Nanaimo; I love trail running (albeit slowly) with my dog Ollie. I like a glass of red wine with good friends and spirited conversations with passionate people.
I have some experience with sitting on boards, committees and (student) governing bodies in the past, ranging from a position as the Athlete representative on the Ski de fond  (nordiq skiing) Quebec Board of Directors, to President of the first year student body at McGill Law School, to sitting on the Resident Education committee in my role as current Chief Resident for the Nanaimo Family Medicine Residency Program.