Director-at-Large: Dr. Danielle Downe MD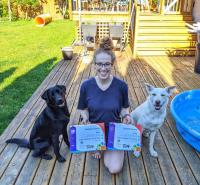 Originally from Alberta, Dr. Downe relocated to Nanaimo in 2015 to complete her Family Medicine Residency. Following this, she pursued extra speciality training through UBC in Palliative Medicine and now splits her time between both disciplines. She also provides care in rural communities in the Northwest Territories, taking several trips per year to locum.
Dr. Downe is excited to join the board and continue to work on improving primary care services for the Nanaimo community. She would love to see Nanaimo expand their Palliative Care community services and eventually create a local hospice center to support patients.
When not working, she spends time with her two dogs, training them in scentwork, trick competitions and agility. She is an avid rock climber, back country skier and trail runner who loves the outdoor opportunities Vancouver Island provides.