Types of Maternity Care Providers
The BC Medical Services Plan covers maternity care provided by a Physician (Family Doctor or Obstetrician) or a Midwife. 
For your main maternity care provider in Abbotsford or Mission, you can choose to see a Family Doctor (including the Abbotsford Maternity), an Obstetrician, or a Registered Midwife. The image on this page shows when you could see each type of provider and when this may chance. The triangle in the image show the pathway to each type of provider. For example, if you have a low-risk, healthy pregnancy, your main maternity care provider may be an Abbotsford Maternity Group Family Doctor, and Obstetrician, or a Registered Midwife.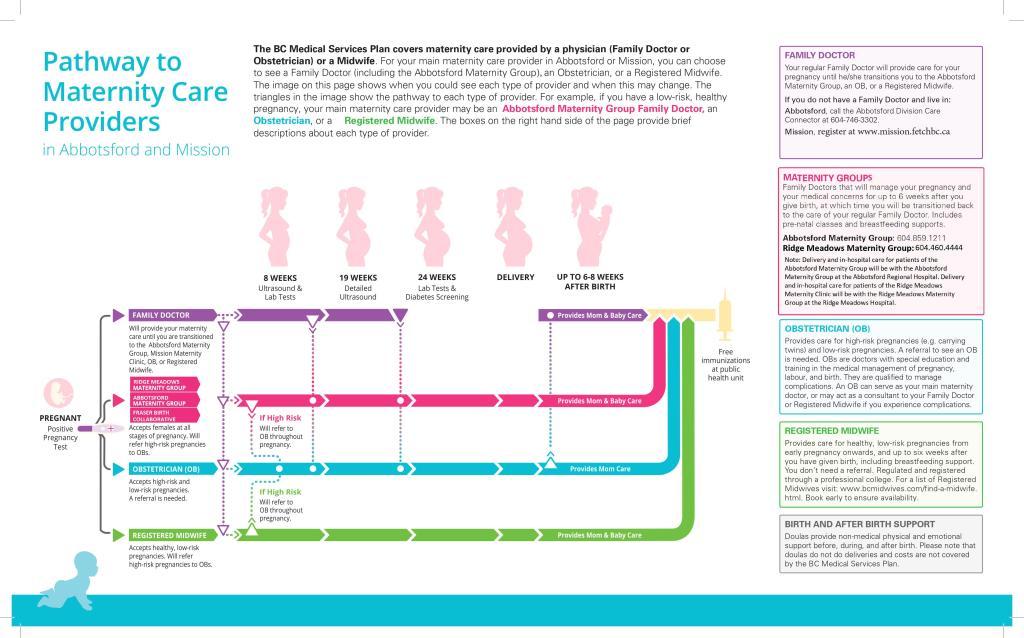 Family Doctor
Your regular Family Doctor will provide care for your pregnancy until he/she transitions you to a Maternity Clinic, an OB, or a Registered Nurse. If you do not have a Family Doctor/ Nurse Practitioner, register at www.mission.fetchbc.ca. 
Maternity Groups
Family Doctors that will manage your pregnancy and medical concerns for up to 6 weeks after you give birth, at which time you will be transitioned back to the care of your regular Doctor. Includes pre-natal classes and breastfeeding supports.
Abbotsford Maternity Group: 604.859.1211. Learn more about the Abbotsford Maternity Group by visiting their website. 
Ridge Meadows Maternity Clinic: 604.460.4444. Learn more about the Ridge Meadows Maternity Clinic by visiting their website. 
Fraser Birth Collaborative (FBC)
A group of Physicians, Midwives, Registered Nurses, Nurse Practitioners, Lactation Consultants, Doulas, Counsellors, and Allied Health Care Providers committed to providing your family with pregnancy, birth, and newborn care.  FBC take a collaborative approach where their entire team takes part in the planning and support of patient's family from pregnancy through to post partum care. Consistent and comprehensive care provides for the best outcome for patients and their newborn. To learn more visit the Fraser Birth Collaborative website. 
Obstetrician (OB)
Provides care for high-risk pregnancies (ex. carrying twins) and low risk pregnancies. A referral to see an OB is needed. OBs are doctors with special education and training in the medical management or pregnancy, labour, and birth.; they are qualified to manage complications. An OB can serve as your main maternity doctor, or may act as a consultant to your FP or Midwife if you experience complications.
Registered Midwife
Provides care for healthy, low-risk pregnancies from early pregnancy onwards, and up to six weeks after you have given birth, including breastfeeding support. You don't need a referral. Regulated and registered through a professional college. For a list of Registered Midwives, visit: www.bcmidwives.com/find-a-midwife.html  Book early to ensure availability.
Birth and After Birth Support
Doulas provide non-medical physical and emotional support before, during, and after birth. Please note that doulas do not do deliveries and costs are not covered by the BC Medical Services Plan.
For a list of providers, visit the Pathways Medical Care Directory.