Dr. Jennifer Yun, Co-Chair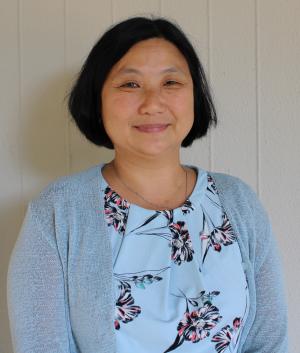 Dr. Jennifer Yun graduated from Memorial University of Newfoundland Medical School 1992 and completed her Family Medicine Residency in 1994 with Memorial University, spending most of the residency training in rural Newfoundland and Labrador. She followed her family by moving to BC, and worked as a family physician in Coquitlam and Tri-cities family practices with hospital privileges in Royal Columbia, Eagle Ridge and St. Mary's hospitals.    
From the beginning, her practice included obstetrics, office care and in-hospital care. Dr. Yun loved the full scope practice that Family medicine provides since it is continuous care for patients from pre-birth to end of life. In  2016, she made a difficult decision to leave her part-time shared office practice to work at the hospital full-time. Currently, she is a full-time hospitalist at Eagle Ridge Hospital and does deliveries with the Primary Care Obstetrics Clinic in RCH.  
The last 25 years have seen many changes, with family doctors giving up obstetrics and hospital care of their patients, becoming more isolated with an increasing workload, and feeling undervalued in office-based practices. Dr. Yun joined the FNW board in 2018 when she saw all the change initiatives coming down the pipeline to support Family doctors providing Primary Care. She wanted to contribute in any small way to the division that was started by visionaries like Tracy Monk, and created Pathways and "Nurse Debbie," to support other Family Doctors in providing the best care to their patients.   
Dr. Yun and her family take full advantage of living in this amazing part of the world.  They love skiing, camping, biking and travelling. Dr. Yun's nuclear family is a truly mixed Canadian family, with all four family members having different birth Countries; Korea, New Zealand, England and Canada, and they are very happy to call the Tri-cities home.
---
Dr. Yun Featured in Doctors of BC Article:
Doctors of BC February 13, 2019
BC doctors meeting the challenges of addiction among new moms read more >