Strathcona Medical Clinic


Strathcona Medical is operating at regular hours during the COVID-19 pandemic, however the majority of visits are now by telephone or by video conference. 
All patients will be initially seen by video or phone visit for new health concerns. Antenatal patients will usually be seen by alternating in person and tele-health appointments to be determined by their physician.
You must wear a mask and sanitize your hands when you come into the office. 
Only the person being seen by the doctor should attend the appointment. One caregiver can accompany children or others, if absolutely necessary. 
Some of the waiting room chairs have been removed to maintain physical distancing. 
Please keep your inquiries during the appointment related to the reason that was booked to be seen in person; in order to see the patients, we need to see in person, and keep everyone safe and physically distanced, we need to move people through the office within appointment times booked. 
If you have any symptoms of COVID 19, do not come to the office; contact us at: 250 862 5030.
If you are seriously ill, you should proceed to the KGH Emergency Room for assessment. 

PHYSICIANS:

Dr. Emily Higgins
Dr. Vadieh Hamidi
Dr. Jeanne Mace
Dr. Heather Martin
Dr. Jennifer Meisner
Dr. Marianne Morgan - long term locum
Dr. Julie Parker
Dr. Jane Rishi
Dr. Dani Sarbit
Dr. Rene Vorster



CONTACT INFO:

Address: #201 – 2245 Abbott Street, Kelowna, B.C. V1Y 1E2
Hours: Phones are answered from 9am to 4pm. We are closed for lunch from 12pm to 1pm.
Phone: 250 862 5030
Fax: 250 862 3811
Virtual Care Directory for patients who might be seeking virtual care:
https://pathwaysmedicalcare.ca/
            Virtual Consent form: (if applicable)



If you are pregnant and greater than 20 weeks' gestation, after hours please call the Labour & Delivery Unit at KGH at 250-862-4471.  You will speak to a nurse who will know how to contact us as needed.  If you are under 20 weeks' gestation, call the Kelowna General Hospital switchboard at 250-862-4000, then "0" and ask for the doctor on call for Strathcona Medical Clinic.  Alternatively, for patients under 20 weeks' gestation, after hours assessments can be managed in the emergency room. 


Parking:
There is a parkade under the building for patient use only in the daytime. You will need to register your car's licence plate with our office. There is also pay parking on the streets around the clinic.


Practice Philosophy:
In our practice we provide care in the office, hospital, long-term care, hospice, and at home. We also provide full maternity care for our own patients as well as patients referred to us from other family physicians who don't practice obstetrics. We are not accepting new patients, other than for maternity care. We provide teaching for medical students and family medicine residents in our office.  


Scheduling:
Your time and concerns are important to us.  When you book a regular appointment, please book it with your main physician. This allows continuity of care by a physician who knows your history. We schedule 10 minutes for most visits and 30 minutes for periodic health exams ("full physicals").  Please check in 10 minutes prior to your scheduled appointment. 
Please assist us in our efforts to provide reduced in-clinic waiting times and timely access to routine and urgent visit bookings.  Please expect to have one concern addressed per visit.  If you have more than one concern you would like addressed, please present both issues at the start of the visit so that we can determine the most urgent one to address.  If both concerns can be managed appropriately within the single visit, we will endeavor to do so, otherwise please expect a return visit to properly address any additional concerns.
Your health is important, and conscientious medical care requires adequate time.  We do our best to respect your time by running on time; however sometimes unexpected issues arise which cause us to fall behind.  We sincerely apologize if this is the case.
For prenatal patients, note that we share coverage for deliveries to allow us protected time for other work-related commitments and time with our families on evenings and weekends. 


Cancellation Policy:
We ask that you give us at least 24 hours' notice for any appointment rescheduling or cancelling.  This allows us to be more available to our patients by making that time slot available to another patient.  If you "no show", a fee may be charged as per our uninsured service policy.


Violent Behavior Policy:
Our staff have the right to be treated with dignity and respect at all times.  Our practice has a policy of "zero tolerance" of verbal or physical abuse toward our staff, our patients, and our physicians.  Aggressive or disrespectful behavior will result in immediate dismissal from the practice.
Frequently Asked Questions:
Q. Can I refill prescriptions by telephone, or have the pharmacy call or fax to ask for refills?
A. Your prescriptions are given so they run out when we need to assess your medical condition again. Prescriptions will only be renewed by phone or fax under exceptional circumstances. Note that the College of Pharmacists of BC allows pharmacists to refill your medication (at their discretion) for a short time so you don't run out while awaiting your appointment. Try to anticipate your need for refills ahead of time.
Q. Are you accepting new patients? 
A. Sorry, we are not accepting new patients at this time.  We do accept referrals from other physicians for maternity care; these patients return to their physicians when the new baby is two months old. Q. Can I have a "same day" appointment? A. If you have an urgent medical matter that cannot wait, please call us to book an appointment. We will do our best to fit you in within 24 hours.  It is better to have urgent care in our office where the physician has access to your medical records, rather than go to a walk-in clinic. We leave appointment slots open for this purpose. You will be seen by the most available physician and this will be a short appointment to address the urgent matter only.
Q.  Can I call about my test results?
A. Results are not given out over the phone by our staff.  All test results are reviewed by a physician.  If you would like to know the results of any testing, please book a follow-up appointment.
Q. Why is my doctor not in every day?
A. We all have other work or family commitments.  Some of us share practices and see each other's patients.  We will do our best to have you seen by another available physician if there is an urgent concern.
Q. Do I have to see a learner/resident?
A. You do not have to have learners involved in your care, but we appreciate your acceptance of them.  We need more family doctors in BC, and you can help to train them. Note that "residents" have graduated so are qualified to see you on their own and write prescriptions; however, they do review every encounter with us.  We will often see you as well and observe the resident in their interaction with you.  If you do not want to see a learner on the day of your appointment, please let one of our MOAs know.
Medication Prescribing Policy:
This office follows evidence-based guidelines for all prescriptions, including antibiotics, opioids (narcotics), and medications for stress-related conditions.  The prescribing of some potentially habit-forming medications may require that a contract be signed between the patient and physician.  Click here to view our opioid / benzodiazepine prescribing contract.


Uninsured Services:
Not all services are covered by the Medical Services Plan (MSP) in BC.  Our doctors bill patients for these services at rates in keeping with provincial guidelines.  Payment is due when the service is rendered.  Our rates for uninsured services are available here.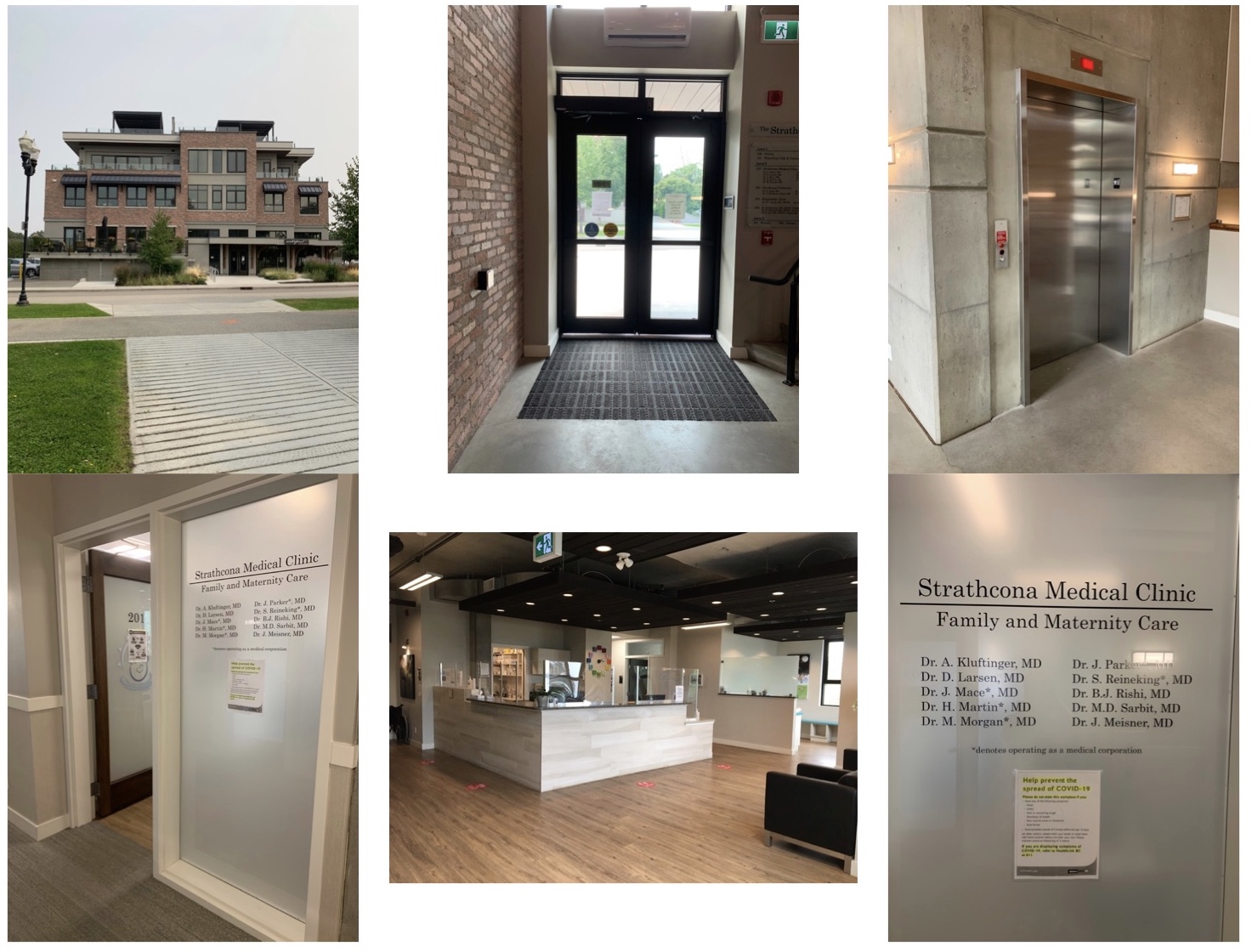 PHYSICIAN PROFILES
 
Dr. Jeanne Mace
Dr Mace is originally from Penticton. After a year as a Rotary Exchange student to South Africa she completed her BSc in Biology at Queen's University. She returned to British Columbia for medical school and in 1997 she earned her MD at UBC  and in 1999 she completed her Family Medicine Residency in Vancouver. Initially she practiced inner city medicine in Vancouver and then rural family medicine in Geraldton, Ontario. In 2002 she relocated back to her beloved Okanagan where she has practiced since. Dr Mace continues to provide "cradle to grave" medicine (from obstetrics to palliative care and everything in between). She enjoys teaching medical students and family medicine residents. She is a member of the Sexual Assault Response Team at KGH ER as well as a founding member of the Central Okanagan Divisions of Family Practice.

 
Dr. Heather Martin
Dr. Martin has been living and practicing medicine in Kelowna since moving from Saskatoon in 2009. She completed her medical school through the University of Saskatchewan and her Residency through UBC.  She has a full service family practice with a passion in particular for maternity care.  In addition to clinical work she assists KGH surgeons in the operating room and does forensics as a member of the Sexual Assault Response Team which operates through the KGH ER.  She has a love for traveling off the beaten path, climbing, cycling, cooking, and inventing/creating things with her 3 awesome kids.

Dr. Marianne Morgan
Dr. Morgan completed her medical school at UBC, graduating in 1992. She then completed her residency at Dalhousie University and practiced around BC before relocating to Kelowna in 1996.  She is has a special focus in OB, palliative, child youth and mental health.  Her favorite part of family medicine is seeing the whole family and getting to be part of their lives.  She lives with her 2 children (17 and 19) and 2 dogs (one is 3-legged!).  Outside of medicine, she enjoys running, biking, and cross-country skiing.
Dr. Julie Parker
Dr. Julie Parker was born and raised in Kelowna. She attended the University of Victoria for her BSc degree in Biology, and then attended the University of Calgary for medical school. She returned to BC for her family medicine residency though UBC, followed by a fellowship in Women's Health. She practice family medicine and maternity care in New Westminster for several years before moving back to Kelowna in 2008 with her family. She is the former site director of the family medicine training program here in Kelowna, and is still actively involved in teaching medical students and residents. She is also a member of the sexual assault response team through KGH. Dr. Parker enjoys her full scope family practice with a focus on maternity care. When she is not busy at work, she is busy managing her 3 children and their activities!
Dr. Jane Rishi
Dr. Rishi graduated from the University of Alberta in 1994 with her MD, and completed her Family Medicine residency there in 1996.  She practiced in Spruce Grove and Edmonton, Alberta until 2001.  There, she worked in family practice, obstetrical care and Emergency Room medicine at the Misericordia Hospital.  She also took interest in pregnant and parenting teens, and temporarily established clinics at their school.  Dr. Rishi also had the privilege of working with the Alberta Medical Association to help create clinical guidelines for antibiotic use reduction.  In 2001, she moved to London, Ontario, where she worked at a family medicine residency teaching clinic and at a Women's Health Clinic.  Finally, in 2003, Dr. Rishi moved to Kelowna, and is happy to call it home.  Here, she has enjoyed working in family medicine and obstetrical care with privileges at Kelowna General Hospital.  

 
Dr. Dani Sarbit
Dr. Sarbit studied at UBC and U of A for her medical school and residency.  She has been practicing in Kelowna since 2003.  She is inspired to build quality relationships with patients and their families and loves getting to know and working with the whole family.   She is married with 3 active children entering their teen years, and is passionate about sports (hockey, paddling, cycling, skiing), music (piano and cello) and travel.  She has been a passionate supporter and coach for the female hockey program in Kelowna.